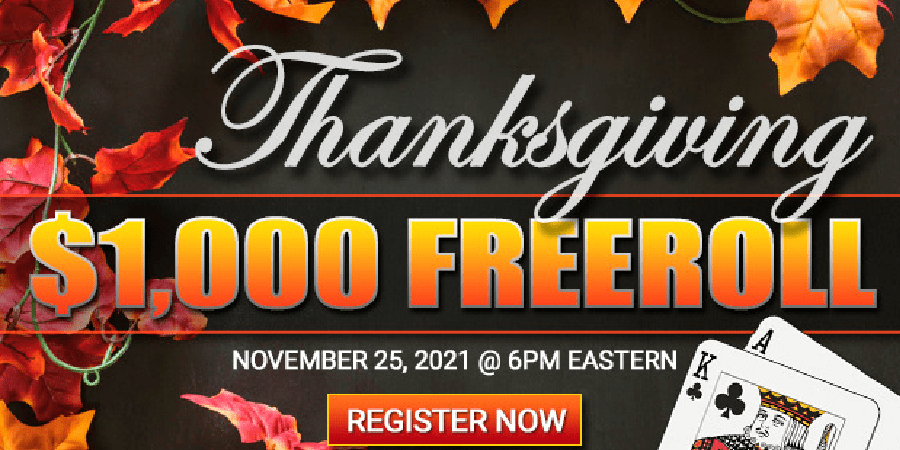 With $1,000 in prizes, the National League of Poker is holding a special Thanksgiving freeroll.
The National League of Poker (NLOP) is preparing to offer a special freeroll event as everyone in the US gets set to gorge on copious amounts of turkey and dressing for the Thanksgiving holiday. Fans of poker may easily take a brief break from the holiday celebrations to play in this $1,000 tournament using any kind of mobile device.
Information about the Thanksgiving Freeroll
This Thursday at 6 o'clock Eastern Time, the special event will take place. Players can participate in the competition via the app or a desktop device thanks to the recent release of a new app by the NLOP. Existing users can download the new app and log in using their login credentials to start playing on their mobile devices.
In order to participate in NLOP, new participants must first register on the website. Download the app from the Google Play Store or Apple App Store once the registration procedure is finished and an account has been created to get started.
The variety of tournaments available to participants at NLOP is much greater than this particular freeroll. The website is hosting a number of unique events to provide players with fun holiday gaming options.
Winter Summit Series, $25,000
The $25,000 Winter Summit is taking place right now at the National League of Poker. This multi-event online poker series began in the first week of November. Every week, participants in this huge series have the chance to compete and win steps to advance to qualifying rounds or utilise tokens they already have to advance.
On the website, qualifying rounds are held on Wednesdays and Saturdays, with the first several qualifiers providing a variety of opportunities to participate. For higher levels, the series typically offers reduced token buy-ins, making it simpler for players to enter the higher step rounds.
This can sound difficult if you are unfamiliar with NLOP. The free-to-play, prize-based online poker room made its debut in 2006 as a legal option. By participating in tournaments and events at NLOP, participants can earn money and prizes without taking on any financial risk.
Poker players have found the social gaming experience to be highly appealing, and the website currently has over 1.5 million players signed up. To date, members have received more than $5 million in prizes and cash. The website expects to provide gamers with rewards totaling more than $500,000 just this year. The website has achieved this by offering unique features like the Thanksgiving Freeroll and the Winter Summit series.